Zhanshi Slots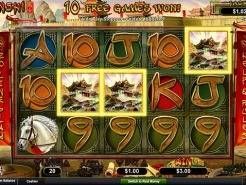 Current Jackpot
$3,188.08
Play Now
Zhanshi is a newer Samurai themed slot game with good graphics and a decent set of features as well. It's meant for the more basic slot gamblers that don't want a bunch of additional bonuses and added decisions to make. Today we take the time to fully review Zhanshi and decide whether it's a slot game worth playing or not. This is always a tough question to answer, but it's going to be even more difficult with the slot's unique feature set and design. Read on to learn more about this cool slot experience.
Betting Options
Zhanshi is made up of 20 paylines overall and you can bet up to one coin on each of the lines. With a line bet of between $.01 and $5.00, it's possible to bet as little as $.01 and as much as $100.00 while gambling at this online casino game. That means that both high rollers and low-stakes gamblers have something to look forward to from this slot game.
Decent Regular Payouts
Zhanshi offers good solid standard payouts even when you aren't in the bonus rounds of the game. That means you have some good wins to look forward to before you ever get lucky enough to make it to a special round. With five of the horse symbols you can unlock the standard round jackpot of 5,000 coins, which is a pretty significant win if you're betting enough. With five of the Samurai symbols you'll unlock a 1,250 payout and get five of the sword or medallion symbols and you'll walk away with 800 coins. The standard card symbols also offer decent payouts, but they're considerably less than the unique symbols of the game.
Progressive Jackpot
There's a simple progressive jackpot that triggers randomly while you play Zhanshi the slot game. This jackpot starts off at $1,000 and quickly grows from there. The jackpot is given out randomly just from spinning the reels of the slot game and there is no way to improve your chances of unlocking it. As long as you are playing the game you have a chance to win this progressive jackpot, so give it a try and hope for good luck. As soon as the jackpot is paid out the amount resets, so it's best to play the game when the jackpot is as high as possible.
Simple Gameplay
Since this slot game doesn't really come with any special features, other than the random progressive jackpot, it's exceptionally easy to play through. From the moment that you start playing this slot game you'll understand all the different features and what the game has to offer overall. You'll enjoy being able to pick up this slot in minutes without having to learn about bonuses and additional decisions for you to make. As long as you understand how to choose a betting option that's right for you, you can go on to play this game. Even though Zhanshi is pretty simplistic, it's still a decent slot game with options worth testing out. If you want to get as much as possible from this slot game, take the time to try it out and all the features that it has to offer. You'll quickly see whether or not you enjoy playing it, and from there you can decide if you want to continue using the game or not.